About Iggy Azalea
Amethyst Amelia Kelly, popularly known as, Iggy Azalea is an Australian-born model, rapper, songwriter, and singer. Iggy is one such an iconic artist who has gained acceptance in the urban music world. She is a sassy Australian rapper who in recent days has become one of the topmost rappers of the time.
Iggy Azalea's Early Life
Iggy Azalea was born in Sydney, Australia on the 7th of June 1990. She is the daughter of Tanya and Brendan Kelly among two other siblings namely; Mathias and Emerald Kelly. Iggy Azalea's father worked as a comic artist and an Irish painter as well whereas her mother cleaned holiday houses and hotels. Due to her passion and aptitude for music, Iggy dropped out of school and moved to the United States to pursue her career.
Iggy Azalea's Career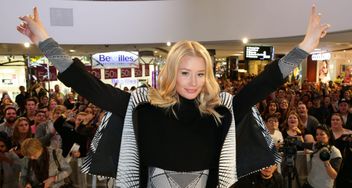 On arrival in the United States, Iggy Azalea's career started picking up after she released the songs, "pussy' and "Two Times". Both songs trended on YouTube while at the same time accruing much popularity to the rapper. Iggy later signed a recording contract with Grand House which is owned by T.I, an American rapper. She released Ignorant Art, her debut Mix, and then gradually but surely Iggy started gaining recognition in the music industry. She has won several awards in her career including the American Music Awards and the MTV Video Music Awards among many others.
Iggy Azalea's Family Life
Iggy Azalea started dating rapper ASAP Rocky in 2011. Their love story together was so amazing that Iggy had the caption Live.Love.ASAP tattooed on her fingers. She however removed her tattoos following her break up with Rocky in 2012. Following their breakup with Rocky, Iggy Azalea started a new relationship with Nick Young, a basketball player later in 2013.
Their relationship proved futile in 2016 following infidelity by Young. Later in 2018, Iggy Azalea started dating American rapper Playboi Cart together with whom they got a son by the name Onyx Carter in June 2020.
Iggy Azalea's Plastic Surgery
A large nose, noticeably thin lips, and a flat chest would be the exact definition of Iggy Azalea's physical appearance when she first laid her feet on the celebrity scene in the year 2012. The now 30-years old Iggy is a totally different person with a slender nose, plump lips, and enlarged breasts.

After living in denial for a long time Iggy Azalea has finally revealed that she underwent plastic surgery, breast augmentation, and a rhinoplasty to be specific. Iggy stated that she initially shied off from revealing that she underwent plastic surgery since she didn't want to make other ladies feel ashamed of their bodies. "Plastic surgery is an emotional journey. It's important to remember you can't change everything. You can never be perfect." She said.
Despite most people including Dr. Randal Haworth, a renowned plastic surgeon, speculating that Iggy Azalea has had butt implants, the Hip-hop star has denied their allegations saying that her derriere is natural. Though she has admitted undergoing other plastic surgeries, bootylicious Iggy Azaela has maintained that she has not had a 'butt implant'.
'Four months ago, I got bigger boobs! I'd thought about it my entire life. I love them so much I had to talk about them. 'Everybody did say, "I don't think you need to say it because no one will ever know because they're so small". I know but I'm just going to say it [because] I'm a blabbermouth!' Iggy Azalea revealed. 'I'd feel better not to have some secret. It's much freer to say it and then you don't have to worry someone will dig it up,' she added.
Iggy Azalea's Net worth
Iggy Azalea is an Australian-borne rapper whose net worthiness is approximately $ 6 million.
Conclusion
Following her confession that she has had plastic surgery in the form of breast augmentation and rhinoplasty, what are your thoughts concerning her new looks? Do you think her butts are natural? Kindly leave your comments.
Here are some fascinating and well-chosen articles to read next: